Quarterly Faith Box

Seasonal Box - $79.95 (+ $9.95 Flat Shipping Rate) 
**Please See Quarterly Delivery Schedule Below**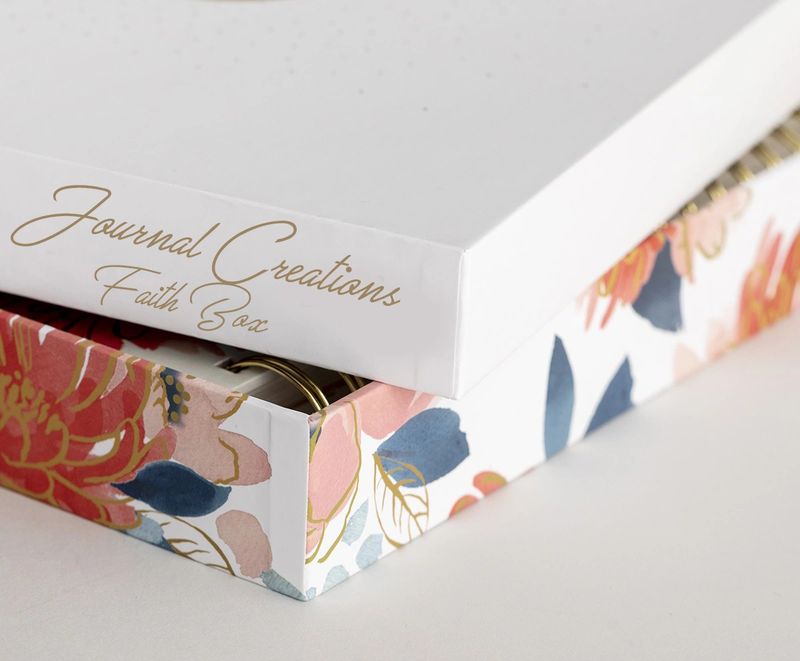 Journal Creations Faith Box helps you delve into your faith and God's Word with Hand Painted Faith Journals, Premium Christian Devotionals,  Faith Based Washi and Ephemera, Scripture Cards and Surprise Gifts delivered every Quarter to your doorstep. Each Box is Built Around an Encouraging and Uplifting Theme to Bless You and Others.
Includes Original Art hand Painted Journal,

Premium Christian Devotional Books,

Faith Based Washi and Ephemera,

Plus Extra Goodies and Surprises Each Quarter

---
Seasonal Quarters
Winter - December, January, February

Spring - March, April, May

Summer - June, July, August

Autumn - September, October, November
---
**Please Note**
Seasonal Boxes Ship approximately around the 15th of February, May, August and November.  To insure a timely delivery, all New Seasonal Subscriptions must be placed 3 weeks prior to the new quarter as listed on the above chart/time table.  Subscriptions placed after this date, will be processed the following quarter. 

After your initial order, your subscriptions will be automatically processed once every three months on the same date of your original signup month.  .  Please Contact Me for any modifications after the order is automatically placed.  Contact Me if you missed the deadline for the present seasonal Box to see if there are any more available.

**International Shipping Costs will be calculated and invoiced accordingly and must be paid upon receipt**